The article is originally posted on CineClub18 with 152 views.
https://mp.weixin.qq.com/s/GmlsWt9Wm9_zv4MgxhXFVQ
Jiexiao Ying 2019.04.19
Translated by Jessie Liu 2019.06.13
Last weekend, Long Night's Journey Into Night opened at the Film at Lincoln Center and Metrograph in New York. It was sold out on Friday night and almost impossible to get a  ticket on Saturday night. The combination of Art Theater and 3D attracts not only the New York intellectuals but also young people of all races.
This weekend, the film will be screened at LA's The Landmark and Laemmle Playhouse7, Ithaca's Cornell Cinema, Toronto's TIFF, the Brooklyn Nitehawk Cinema and Alamo Drafthouse. All cinephiles shall come! The ticket purchase link is attached below.
After last week's screening, I asked everyone how they felt about the film. American arthouse film lovers usually like Andrei Tarkovsky's reference. Some viewers shyly told me that they were sleepy during the film. They fell into a dream with the protagonist in the cinema and got lost in the slow-paced story. 
Some viewers said that they have seen the film three times. They were very obsessed with the 12-minute 3D long take. The dream fragments the events in reality and makes a collage of them. The process of revealing the reality is like a game. And the sound design is impressive.
The most mentioned is one coincidence in the long shot: the horse is shocked in front of the camera, so the apples on its back fell to the ground.  This accident strengthens the reality of the movie world.
In fact, all of the above are ways to access a movie. Director Bi Gan said:
"Don't be afraid to get a little lost while watching.
It is a gentle, quiet film.
If you can give yourself over to it,
you'll find answers in all that your eyes absorb."
Regarding the atmosphere of the film, he said:
Just when you think it is a film noir,
it turns into a fairy tale.
The director is willing to dream with the audience:
"It is a film about dream and memory.
When we dream, it feels so real.
Yet when we wake up,
we are left with nothing but fragments.
It is my hope that this is the feeling
you will have while watching my film."
The complete short video recorded by Director Bi Gan for the North American audience will appear at the beginning of the film screening ( with English subtitles), so don't be late!
The North American film critic recommended Long Day's Journey into Night and everyone should go to the cinema to experience this fantastic dream.
North America Screening info this week
[New York]
*Welcome to join the New York Cinephile Group, receive giveaways, and discuss the movie. Contact "vivian_afro to join the group.
Film Society of Lincoln Center (3D) 4.12-25
It is the pillar of New York's arthouse films, the venue of the New York Film Festival. It is near the 66th street subway station on Train 1.
Ticket link: https://www.filmlinc.org/films/long-days-journey-night-bi-gan/
Metrograph(3D) 4.12-25
In the center of Chinatown, full of popular restaurants
Ticket purchase link: http://metrograph.com/film/film/2004/long-days-journey-into-night
Nitehawk Cinema (2D) 4.19-20 (Friday, Saturday, Midnight)
The cinema in the Williamsburg Bar in Brooklyn, where you can start watching movies at 12:20 AM .
Ticket link: https://nitehawkcinema.com/williamsburg/movies/long-days-journey-into-night/
Alamo Drafthouse Brooklyn (3D) 4.20-21 (this weekend only)
Thematic dining, fan curation, see Siyuan's article for details: Cinema of Paradise
Ticket purchase link: https://drafthouse.com/nyc/show/long-days-journey-into-night-2018
Cornell Cinema, Ithaca 4.18, 4.21 7PM
Cornell friends, come on! Purchase ticket link: https://cinema.cornell.edu/Spring2019/long_days_journey_into_night.html
[Los Angeles]
*Welcome to join the LA Cinephile Group, meet a movie (recommended 3D games),
*DC&LA benefits
The Landmark (3D & 2D) 4.19-25
3D-10:15 am, 1:15, 4:15M 7:15, 10:10 pm
Ticket link: bit.ly/2VLOzO6
2D -11:00 am, 2:00, 5:00, 8:00 & 10:20 pm
Ticket link: bit.ly/2Xje3Tq

Laemmle Playhouse 7 (2D) 4.19-25
2D -1:00, 4:20 & 7:40PM
[Seattle]
SIFF Cinema Uptown 4.12-18
Ticket link: https://www.siff.net/year-round-cinema/long-days-journey-into-night
Grand Illusion Cinema (2D) 4.20-21 1:30pm 2:30pm (weekend only)
Ticket link: http://www.grandillusioncinema.org/
[Columbus] 4.18-19
Wexner Center for the Arts
https://www.facebook.com/events/2143830169040675/
[Toronto] 4.19 – 25
TIFF Bell Lightbox
https://www.tiff.net/tiff/long-days-journey-into-night/
* Participate in the premiere night of Toronto, see the activity page of "Xiaoxuaner Guanying Group", and have the opportunity to get the giveaways of the movie.
https://mp.weixin.qq.com/s/cKALeXISevB4k_AF4A9uRA
[Vancouver] Coming Soon
Vancouver International Film Centre
https://viff.org/Online/f26293-long-days-journey-into-night
Online events
Coordinates of the United States fans can contact Vivian (WeChat vivian_afro) to join the local fans of the United States, such as the New York Film Guard, LA squad, American gaze…
New York movie theater fans who met at the Lincoln Center
Artist partner at Metrograph Party
Canada movie lovers can contact Xiaoxuan Er (WeChat xuanyi0415) to participate in the event "Toronto Premiere Night".
The audience from the United States and Canada can send a film review to Vivian (WeChat vivian_afro). You may have the chance to win BABYGHOST X Movie Theme silk scarf and vinyl record (North America only).
If you are a super fan of Long Day's Journey into Night, or you are interested in the announcement of arthouse films, willing to contribute ideas and do co-promotion, or introduce friends to this movie that requires patience to fully appreciate, please contact me (WeChat vivian_afro).
Reading More:
Deep Focus Round Table | Why "The Last Night of the Earth" deserves to be discussed repeatedly

Cinephile's Film Critics | Life is a Mobius-style resurrection dream – the spiritual reconstruction of Long Day's Journey into Night
– Have a good dream! –
《地球最后的夜晚》LA&多伦多3D首映,布鲁克林酒吧半夜小酌
上个周末,《地球最后的夜晚Long Day's Journey Into Night》在纽约的Film Society of Lincoln Center和Metrograph放映,周五晚上的场次售罄,周六出现买不到票的情况,艺术影院+3D的组合吸引的不只是纽约老文青们,还有各个种族的青年人。本周末,影片将在LA的The Landmark和Laemmle Playhouse7, 以及Ithaca的Cornell Cnema上映,多伦多的TIFF上映,还会新增布鲁克林Nitehawk Cinema半夜和Alamo Drafthouse的周末场次。影迷朋友们可以相约入梦了!购票链接见下文。上周映后,我询问了大家的感受。美国的艺术片爱好者很喜欢塔科夫斯基的指涉。有的观众羞涩地告诉我,进了影院睡意难挡,和主人公一起在电影院沉入梦境,迷失在步调缓慢的故事里。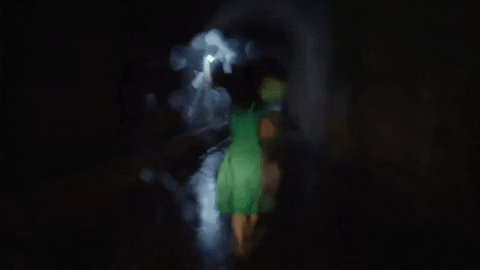 有的观众说来电影院三刷了,非常迷恋3D长镜头的十二分震撼,梦境对于现实重新拼贴,解谜的过程像游戏,而声音的精巧设计让人难以忘怀。
提及最多的是长镜头中的惊喜:马受惊在镜头前疾驰,洒落一地的苹果,这个意外倒加强了电影世界的真实,仿佛神来之笔。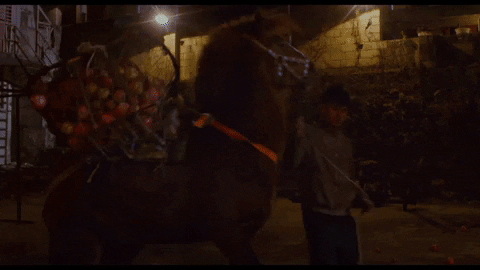 毕赣导演为北美观众录制的完整小视频,会在电影放映的片头出现(电影院版本带英文字幕),不要迟到哦!北美影评人力荐《地球最后的夜晚》,推荐大家到电影院感受这场奇幻迷人的梦境:
本周北美放映信息&购票链接
【纽约】*欢迎加入纽约观影团,映前小食,映后交流,联系vivian_afro邀请入群
Film Society of Lincoln Center(3D) 4.12-25纽约艺术电影的顶梁柱,纽约电影节的场馆,1号线66街出口便是
购票链接:https://www.filmlinc.org/films/long-days-journey-night-bi-gan/
Metrograph(3D) 4.12-25
电影院里都是最靓的仔,位于遍地美食的中国城购票链接:http://metrograph.com/film/film/2004/long-days-journey-into-night
Nitehawk Cinema(2D) 4.19-20(周五周六半夜)布鲁克林Williamsburg酒吧里的电影院,在12:20的凌晨开始看电影购票链接:https://nitehawkcinema.com/williamsburg/movies/long-days-journey-into-night/
Alamo Drafthouse Brooklyn (3D) 4.20-21(仅限本周末)
主题餐饮,影迷策展,不许迟到,详情见思源文章:影迷的天堂电影院购票链接:https://drafthouse.com/nyc/show/long-days-journey-into-night-2018
Cornell Cinema, Ithaca 4.18, 4.21 7PM同学们,来吧!购票链接:https://cinema.cornell.edu/Spring2019/long_days_journey_into_night.html
【洛杉矶】*欢迎加入地球LA小分队,相约看电影(推荐3D场次),联系vivian_afro邀请入群*DC&LA福利| 《地球最后的夜晚》文末留言有增票
The Landmark (3D & 2D) 4.19-253D-10:15 am, 1:15, 4:15M 7:15, 10:10 pm
购票链接:bit.ly/2VLOzO62D -11:00 am, 2:00, 5:00, 8:00 & 10:20 pm购票链接:bit.ly/2Xje3Tq
Laemmle Playhouse 7 (2D) 4.19-25
2D -1:00, 4:20 & 7:40PM
【西雅图】
SIFF Cinema Uptown 4.12-18
购票链接:https://www.siff.net/year-round-cinema/long-days-journey-into-night
Grand Illusion Cinema (2D) 4.20-21 1:30pm 2:30pm(仅限周末)购票链接:http://www.grandillusioncinema.org/
【哥伦布】
4.18-19 Wexner Center for the Arts
https://www.facebook.com/events/2143830169040675/
【多伦多】4.19 – 25
TIFF Bell Lightbox
https://www.tiff.net/tiff/long-days-journey-into-night/*参与多伦多首映之夜,参见"小玄儿观影团"的活动页面,现场有机会获得电影周边https://mp.weixin.qq.com/s/cKALeXISevB4k_AF4A9uRA
【温哥华】Coming Soon
Vancouver International Film Centrehttps://viff.org/Online/f26293-long-days-journey-into-night 同城影迷&线上活动
坐标美国的影迷可联系Vivian(微信vivian_afro)加入美国当地的影迷组织,例如纽约观影团,LA小分队,美国观影团…
坐标加拿大的影迷可联系小玄儿(微信xuanyi0415),参与线下活动"多伦多首映之夜"。
美国和加拿大的观众发送影评至Vivian(微信vivian_afro),通过评选和抽奖,可获得BABYGHOST X 地球最后的夜晚主题丝巾以及黑胶唱片,北美包邮。
如果你是《地球最后的夜晚》的超级影迷,对于艺术电影的宣发感兴趣,愿意出谋划策&合作推广,向朋友们介绍这部需要耐心才能感到震撼之美的电影,请联系我(微信vivian_afro)。